The Plan
I picked up a VSL Boxford lathe from a good friend of mine Brian who's allowed me to fix it up
and use it. Dates from between 1972 and 1976. It's a big over hall converting it to AC power from
3 phase power which will cost around €400 if I don't need a motor.
At present I'm dismantling it learning that it's all module based, sand blasting old paint and rust
off it then respraying it hopefully to get it like new.
After the respray I'll spray all the cogs with de-greaser solutions and nutshell abrasive and re-grease
them. The last thing will be installing a new inverter with new forward and back controls
My goals are to
1. Dismantling all components and strip out 3 phase electrical parts
2. Sand blast the areas I can
3. Repainting of all components
4. Reassembling of components
5. Convert the electric side from 3 phase to single phase using an inverter
stripping the modules
started the stripping the most important thing is to take photos of the grey areas your not sure of you can never have to many. boxford lathes don't really have any manual and each one made has parts or modals from different years mine is between 76 and 78
each machine had its own sole really each one is a little different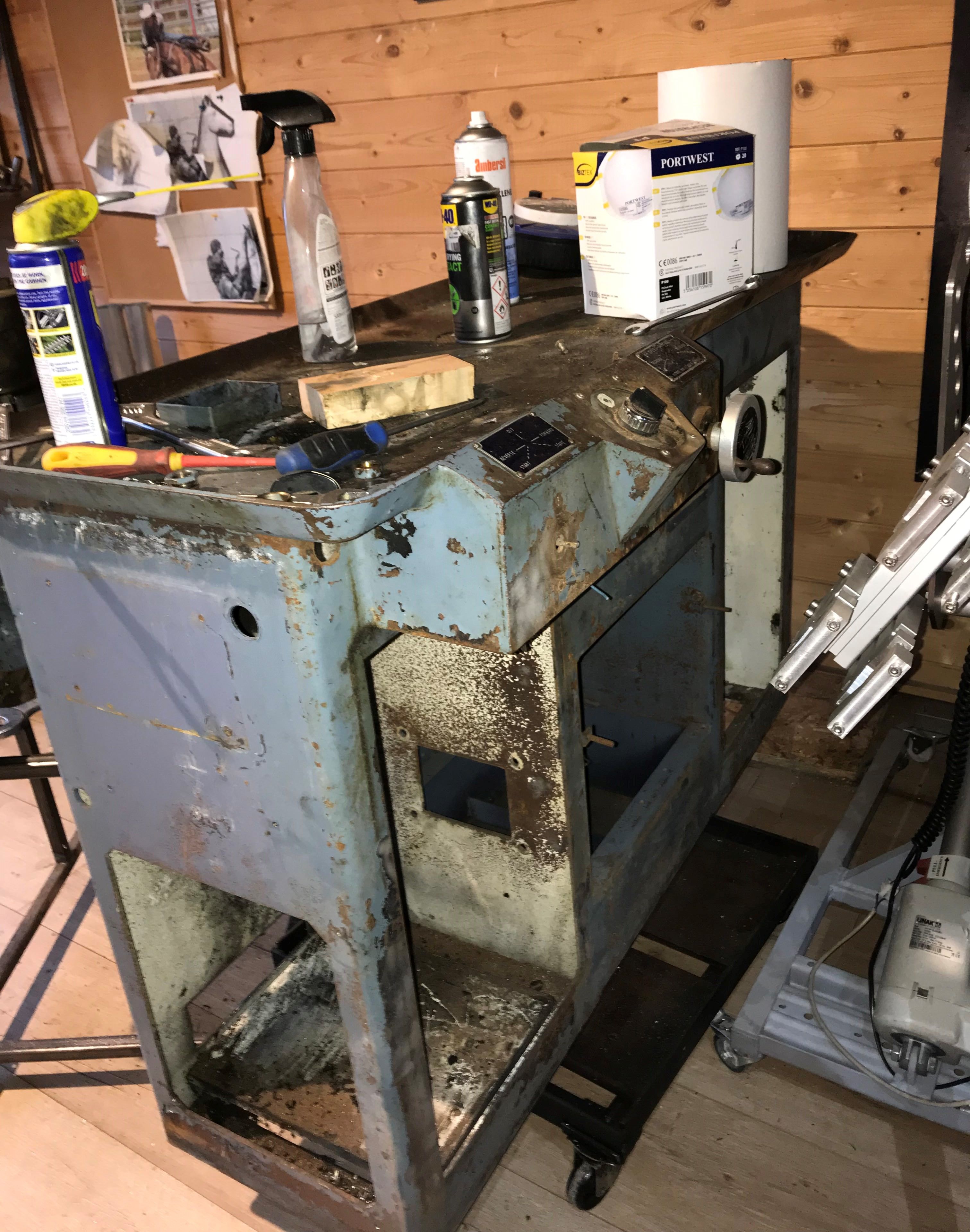 Electrical and motor
Stripping all thr modules off thr base of the lathe was really a guessing game.. once done however  it makes sense, to remove the bed from the main body was the most difficult and only came off by chance when we lifted the base from the bed with hoist we discovered it was epoxied on 40 years and it was still solid
the dirt was another thing we had to get off to see bolts and screws
Sand blasting and Paint
Sand blasting all dismantled modules for undercoat of paint  then two pack epoxy painting, this process of sandblasting took ages and i really never want to do it again on such a big scale, but in saying that the VSL is modusl based
i didn't have to or want to disassemble any gears in each module, but to clean the gears i used gunk degrees er with my air compressor which got them nice and shiny.
then i rapped them in paper and Vaseline on hard to tape areas to prep the parts for painting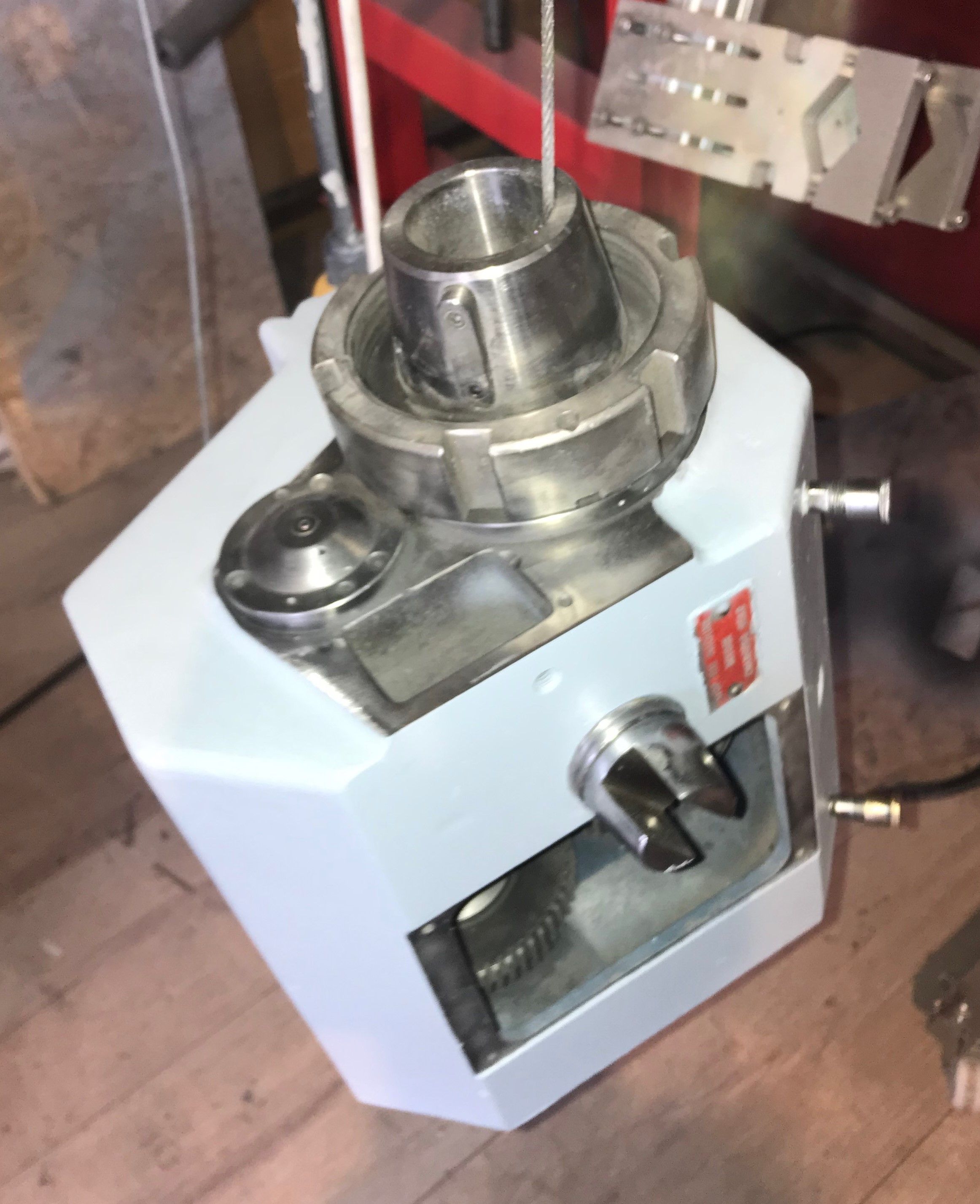 The Big Change
Not surprisingly after sandblasting, cleaning and painting  the VSL base we decided to take a bigger risk in improving it for disabled use.
We are not going to get such a big strong lathe like this again even if we sold it, the new once are nowhere near as strong  versatile as the Boxford with a 120mm chuck and a long bed we would be crazy to give it up
The problem is they are designed to be stood over, us being in wheelchairs can not get are legs under it nor can we look down into it while cutting, in fact it is dangerous in its current form as it will spin materials into our eyes, while limiting the amount we can see in the first place so we are going to drop the whole thing.
Through CAD I redesigned a base that we can get our legs under while keeping it low down giving us the advantage of looking down onto the work, getting our legs under it allowing disabled like me with limited right hand to operate it with safety.
We will be change the motor and adding and inverter new base plate new pulleys. Basically we are redesigning the bottom physically and mechanically.
Firstly I had to grind off the base table that the rail base sits on everything on the Boxford sits on the rail base, as I have been cleaning, degreasing, sandblasting and repainting all the modular components with two pack paint designing and understanding what we needed to do was eased. It still took around 30 disks to cut the bad boy off but as with all things the steel left can be used to build other tools
Once I got it clear I gave the table base to Viktor who cleaned the cuts up with his plasma torch with the table he could make sure the CAD. Drawing was not covering any important holes for belts and bolts.
Once he is finished with his end he will give newly made base using 40x40x3 box and table which we will bolt on back to me so I can sand blast the table and using the compressor paint both up then start the reassembly of the Lathe.
Once everything is back together our new motor from electric drives in the north of Ireland is fitted.
We will do the electrics using drives direct in the UK that specialise in conversions of 3 phase to single phase using an inverter they will program the inverter and cable everything up with a forward and back mod and speed mod, all I will have to do is wire in the electric drive motor and add pulley belts.
Victor building new disabled base for the lathe
After the design and approval from Eoghan are living Wikipedia person Viktor has started welding the base together.
Eoghan has called in and given him tips.
Electric motor and base
We sourced a northern Irish company that supplied us with out 1.5 4 pole electric drive motor  and base plate for a great price from there sales person Philp all done by email and paid for by PayPal.
Because he liked our project and wanted to support us he gave us a great price , but not just that was why we went for them for me the clincher was the fact there website was clear and easy to navigate to get the correct information needed if questions are needed  to be ask I could save them and myself time the prices are all visible information about each product listed with schematics so you can see what application suits your project.
https://www.electrotechdrives.co.uk
As I like the fact they supply large scale to small scale customers because you never know when the small scale customers turn into large scale!
Surprisingly less websites do this in Ireland in the UK they do in fact. I buy my aluminium for my CNC cutting from Germany company Motedis because there site is like this easy to navigate, the shipping is the same price as if I was getting it from Ireland.
I am not treated like my custom is a hindrance more than valued
Major Change for Disabled
Viktor has done a bang up job building the base table I designed in Solidworks to mount the lathe base table onto and module components to suit disabled use.  Eoghan! are wedding and metal Wikipedia dude went to his house to check all of it and was impressed, Viktor fell out of his chair a few times in the process but for me it's nothing new!
We got the table back to the mungrul workshop through Martin our disabled truck driver I started doing the final paint job on base and plate
As you can see from the photos it's really starting to come together we loosely bolted the core components onto the new frame, we also retapped the bolt holes so we can use modern bolts, the older bolts where originally the correct size but over time they have deteriorated along with the holes so hens re-tapping the holes resolves the problem
Belts Pulley and mounting
With all components cleaned, degreased.  visually it allows us to better assembly the newly designed table,  Incase we have to dismantle again instead of using epoxy to stop movement through vibrations modern none slip washers will be used
I contacted drives direct https://www.drivesdirect.co.uk taking with Dave there he set me up with a modal start stop forward and back wired it in and also configured the Inverter I also got a 2:1 ratio pulley so all I have to do is wire the mains in for the electrics to be done
I ordered the belt from eBay from 4Bearings shop  NUT LINK T LINK V selection B   Which was wrong but sent it back and got the correct one.
Motor Plate Fix
I had also lost a key way needed for the threading gears but was able to get a replacement from eBay.
 The inverter is now in a project box and and ready to plug into the motor, I'm just waiting for a mate to measure the the spindle pulls and the motor pulley so it is smooth then we can test her out
 In mounting the motor with the belt we had to make a 4 pillar plate to make it more sturdy allowing the pulley to be adjusted up and down forward and back as needed
Almost There!
So we are at the final stages of the lathe refurbishment using a 2 pack paint a combination between paint and epoxy resin giving strength to the final result.
 Now that painting was done reassembling the components was underway butting the saddle back on and to make it rigid was a challenge and John Flynn a good friend gave me a good hand with it him being a great engineer in big machinery
 But we eventually got it with a bit of trial and error..
Now we just need to remount the motor and attach the belt line it up and plug in the inverter to calibrate everything